Visitor Processing
---
Efficient Management of Visitors and Groups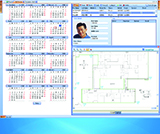 StarWatch™ SMS provides a robust visit planner module, enabling users to easily view and create visit plans using comprehensive scheduling tools. With intuitive calendar-based navigation, the planner facilitates advance setup for large groups and efficient processing of same-day walk-ups.
All visitor-specific parameters, including arrival/ departure dates, card types, and permission levels can be viewed and modified via an advanced settings panel. For highly restricted areas, a sponsor and escort program adds an additional layer of security by matching visitors to registered personnel and outlining pre-configured chaperoning protocols.
---
System Features
Optimized visit scheduling and registration process
Calendar-based navigation
Ability to import visitor lists from existing spreadsheets
Automatic generation of pre-registration queues
Simple assignment of sponsors and escorts
Permanently stored visit history per individual
Ability to scan barcodes from driver IDs
Support for multiple visits by same person, history tracked even when assigned newer credentials
On-screen operator instructions
---
Visit Pre-Planning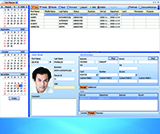 Within the StarWatch SMS platform, visit pre-planning is accomplished via date-specific appointment pages where operators can easily enter lists of expected visitors. Individuals can be quickly selected from the existing database of previous visitors or new profiles can be created for persons who are first-time visitors. The system provides person detail fields, such as name, business, and photo, that can be completed to aid in the identification process as visitors arrive. A quick-search feature simplifies the assignment of sponsors and escorts by enabling users to locate and select personnel profiles within the system and auto-fill all required details.
The visitor module also allows for the seamless migration of existing visitor databases into the StarWatch SMS system. All user details from existing spreadsheets including those contained within custom fields can be mapped to corresponding fields within the live system. This simple, automated process results in searchable visitor profiles that can be associated with new visit plans.
---
Fully Integrated Peripherals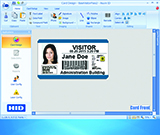 Further enhancing the visitor management process, StarWatch SMS supports an array of registration-related devices. These feature-rich peripherals can be used to automatically import user information into system user profiles and visit records with minimal operator assistance.
The creation and issuance of visitor ID passes or access control cards is achieved using HID Asure ID card personalization software, which is fully integrated within the StarWatch SMS user interface. Using pre-designed templates, operators can easily produce visitor-specific badges that include any combination of user details, ID photos, visit parameters and other requirements.
---
Document Links

Core Capabilities - Visitor Management
Description: overview of the DAQ visitor management solution, from visit pre-planning and badging to fully integrated peripherals
click to download
---
Integrated Capabilities
Beyond visitor processing, the StarWatch SMS platform offers an innovative array of fully integrated solutions.
---
Related Products
The StarWatch product portfolio includes a proven line of software and devices that allow users to maintain comprehensive situational awareness across all entry points, surveillance zones, and perimeters.