Training
---
DAQ offers extensive training courses covering both our security and SCADA product lines. Each course is designed not only to cover the basics of hardware design and software configuration, but to directly address the needs of each customer, whether students are technicians, engineers, or sales personnel.

Please contact our offices to discuss your specific training needs.
---
From Initial Set-up to System Operation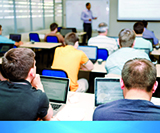 Training programs are designed to provide students with an in-depth understanding of the installation, configuration, and operation of DAQ hardware modules and software tools. Whether you are a system technician who performs RTU maintenance in the field or a site administrator responsible for building system databases from start to finish, DAQ has a class that is right for you.
Courses range from single-day sessions to week-long schedules and are aimed at enabling users to maximize the performance of their systems and sub-components.
Full curriculum with classroom and hands-on training
Highly qualified instructors with core background in automation programs
Best practices for software and equipment
Certification for administrators and operators
---
Customized to Meet Your Needs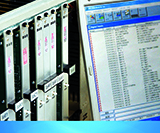 In hardware-focused courses, all relevant modules are examined in detail, including discussions on ports, device input/output, the meaning of diagnostic indicators, and cabling types. Additional sessions cover recommended installations, troubleshooting, and our proprietary CallistoView programming software. Students develop and download configuration files and learn the process for accessing terminals and other remote equipment. All coursework is provided in a hands-on format, enabling students to apply new knowledge and hardware/software tools.
For software courses, students are taught the complete programming and configuration of a system, with database development and maintenance a primary discussion point. Classes also cover the set-up of all integrated applications, including SOE recording, data archiving, and programmable logic for SCADA and mimics, badging, and event server functions for security.
The certifications granted at the completion of each course are required for all technicians, administrators, and other personnel who actively install and service this equipment in the field and qualify graduates for direct phone support.