Our Mission
---
Mission Statement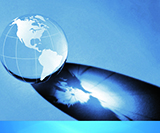 DAQ Electronics is dedicated to providing impenetrable security for asset protection scenarios and flexible process automation for distributed control and monitoring applications. Our goal is to exceed customer expectations through the development of innovative products that set the standard for reliability and allow for the seamless integration of the latest advances in security and SCADA technology. With a focus on superior service, we strive to offer the most complete system solutions available, while fostering long-term relationships with our customers, business partners, and employees.
---
Customer Relationships
DAQ aims to achieve customer satisfaction by promoting positive interactions in each project stage, from initial sales contact through planning and implementation. This is accomplished through an emphasis on professionalism throughout our organization.
Key elements of our policy include:
Treating customers as partners, where projects create a win-win situation for both DAQ and our client
Providing extensive internal/external training to guarantee that projects are fully supported
Supplying high-quality products and services that match customer specifications and project needs
Conducting business in a fair, ethical, and professional manner in every aspect of our operation
---
Company Goals
Product Innovation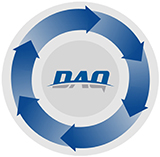 As a technology-focused company, DAQ's success in our core markets is directly related to our ability to develop pioneering technologies and products. This creation of innovative solutions helps to increase our customer base, open emerging and tangent markets, and decrease manufacturing costs.
DAQ continually utilizes the knowledge and experience resources found in our industries, our customers, and our own creative channels to develop clearly defined product specifications that are successfully engineered, developed, and deployed in a timely manner.
Employee Satisfaction
DAQ strives to create an atmosphere in which employees can remain consistently motivated and achieve a genuine sense of accomplishment. This environment is promoted through the fair, respectful treatment of individuals at all times, the proper recognition and appreciation of accomplishments, and the free, open dissemination of information throughout the organization.
Commitment
The critical elements described above, along with a corporate commitment to our strategic plan, our management information system, and other profit increasing concepts, will ensure DAQ maintains its position as a market leader.