Customer Support
---
Our Highest Priority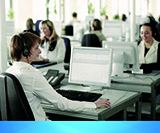 At DAQ, we believe the success of our company is critically linked to the success of our customers. Staffed by highly experienced technicians, our support programs include detailed training courses, field service options, and full technical assistance for system configuration, startup, and maintenance.
We also provide extensive documentation related to our software platforms and hardware modules. Key document files and the latest software updates can be accessed in our downloads section, which requires registration.

For more information on these programs, please contact DAQ customer support.