Applications in Automation
---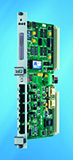 The primary applications for DAQ SCADA technology are found in the electric utility industry, where Callisto automation products manage the distribution of power in substation and distribution line environments. Along with conventional data collection and control/monitoring functions, Callisto remotes are also capable of performing operations that are not traditionally associated with RTUs. In many cases, this functionality eliminates the need for utilities to purchase additional equipment to carry out specific tasks.
Listed below are some of the SCADA applications that can be addressed using standard Callisto remotes and software packages.
---
Power Management
Callisto remote technology is primarily used by utilities to control and monitor the distribution of power in substation and pole top environments. Over a system-wide communications network, alarm and power quality information is generated and reported to a central site, where system operators command a wide array of control options. Critical operations, such as opening and closing remotely located circuit breakers and switching reactive loads to improve efficiency, are performed on an event-specific basis or fully automated through system configuration software.

DAQ equipment facilitates the efficient flow of power through each step in the distribution process - from power stations to homes and businesses. Using highly customizable remotes and integrated software packages, DAQ is able to meet the requirements of the most demanding SCADA applications.
---
Data Concentration
The proliferation of IEDs in electric utility substations, along with requirements to communicate data to multiple, geographically dispersed locations, has fostered the need for intelligent data concentrating. DAQ meets this demand by providing a flexible, user-friendly Callisto interface that enables simple integration of third-party devices. This interface is driven by the powerful CallistoView configuration utility and features an extensive, license-free library of both industry-standard and legacy protocols.
To accommodate the high-speed flow of information, the Callisto solution incorporates one or multiple IoE3 modules into a single bin. Each IoE3 provides dual Gigabit Ethernet connections and four communication ports, configurable for RS232, RS485, or modem operation, with each port capable of supporting a separate protocol. Due to the modularity of Callisto components and the flexibility of the LAN communications architecture, additional IoE3 units can be easily added to expand capacity.
DAQ also provides an efficient data concentration solution with the intelligent IoG3 remote. Providing the full benefits of IoE3 communications technology, the IoG3 serves as an automation gateway processor for the Callisto network, managing information received from IEDs as well as data from other Callisto nodes, all while adding a new layer of security to SCADA systems. Housed in a 1U rack-mount enclosure, the IoG3 communicates with devices in their native language, providing an automation solution that is open in design and manufacturer independent.

IoE3 Overview
Description: information sheet for the 3rd generation communications processing module
click to view

IoG3 Overview
Description: information sheet for the IoG, an RTU supporting smart grid data management functions
click to view
---
SOE Recording
All digital inputs processed by Callisto remotes can be time-stamped to within one millisecond accuracy. By utilizing the DAQ event recorder software application and an IRIG-B time source, all functions of a traditional Sequence of Events Recorder (SER) can be emulated. In addition, time-stamped alarm data can be printed locally or logged to a retrievable file.
---
Load Transfer
With sophisticated power system measurement capabilities and the integrated PILOT programmable logic package, Callisto remotes can be configured to make intelligent switching decisions based upon actual load and the maximum capacity of a line. This assures that a backup feeder is not over-burdened when switching occurs.
---
Related Products
The Callisto product portfolio includes a proven line of software and remote devices that allow users to monitor and control critical SCADA processes.