Security Systems
A standard for many Department of Defense applications, the StarWatch security platform is engineered to meet stringent standards of reliability and impenetrability while providing comprehensive situational awareness across diverse software applications, sub-systems and hardware devices. StarWatch is a highly scalable technology, with solutions ranging from small, stand alone access control systems to fully-integrated PC-based networked security environments that incorporate CCTV, video badging, and video verification.

Security Management System: Powerful interface to optimize legacy systems, comply with current industry standards and counter future threats

Gate Management System: Manages the flow of vehicle and pedestrian traffic into military bases, corporate campuses and large parking garages
Through an innovative, high-speed software interface, data from geographically dispersed sensors, detectors, portals and imaging systems is processed and sent to centralized workstations where operators command a wide range of supervision and control options. A dynamic system configuration utility allows for a high degree of automation, enabling immediate reaction to intrusion attempts and other threats via pre-determined alarm sequences and response routines.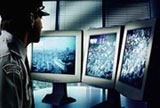 Incorporating modular components and software applications, an open architecture approach allows for the seamless integration of imagers, sensors and other third-party devices. Extensive access control facilities support numerous card reader designs and are fully compatible with the latest biometric identification technologies, including iris, fingerprint, hand geometry and physiognomy recognition.
Recognizing the critical nature of security concerns, DAQ designs our system solutions to directly match user requirements and maintains strict confidentiality in all aspects of project planning, engineering and installation. Please contact a DAQ representative for more information.